. . . .the Oxnard Journal
...........<![if !vml]>
<![endif]> 2003
.... - Noviembre - November - 09 -
Your Story here : e-mail it to the Oxnard Journal::::::::::::::::::: e-it here>>
--- - - -- -- -- -- - The FART TUBE Route - from Grace to Space - -- -- -
............................................................................................................................-.jpg is big - but worth it - - - - -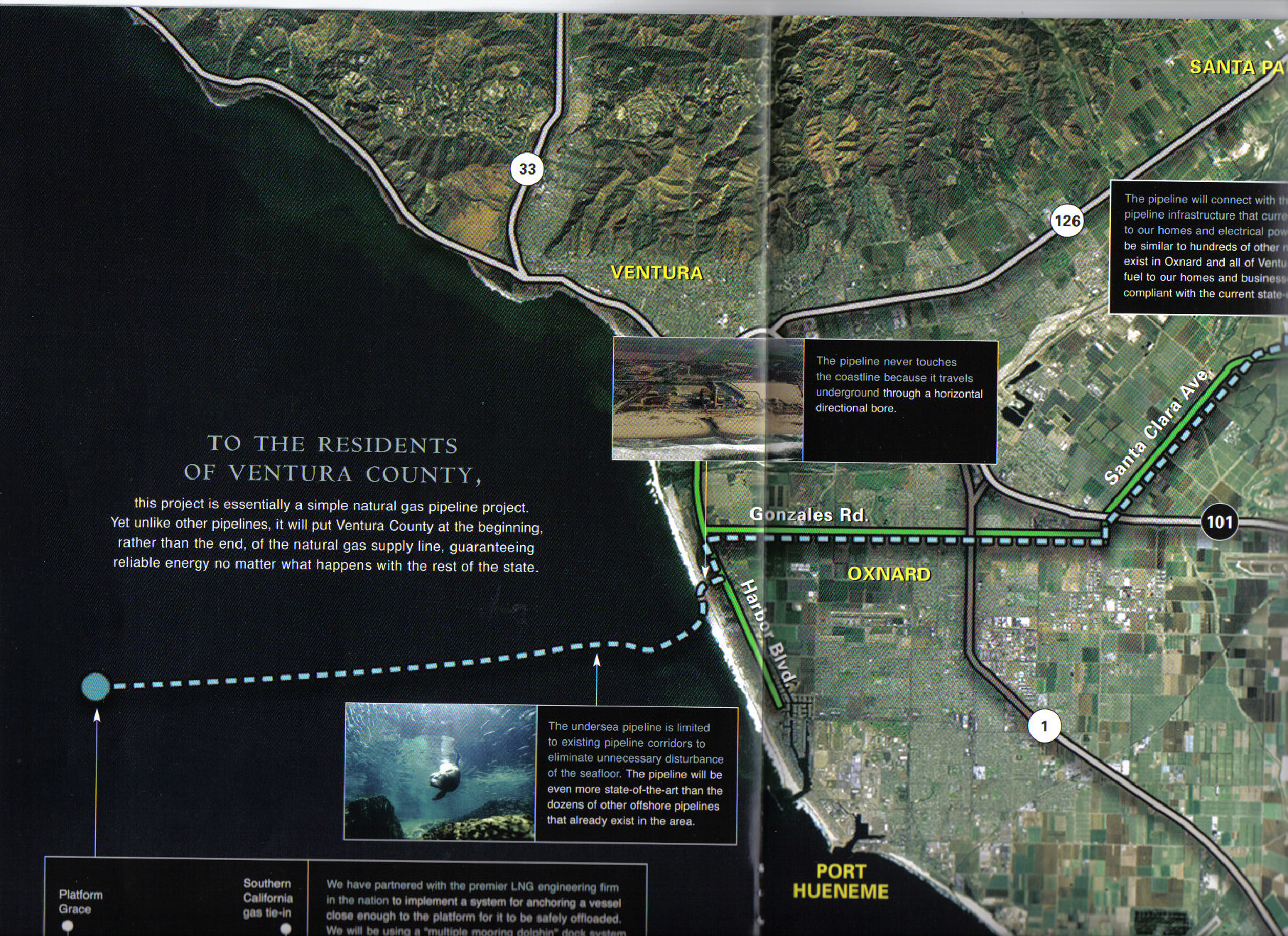 ust

This map provided by one of the proponents of the LNG Pipeline - shows us in the best way possible the route
which the Fart Tube will take....it will traverse the entire length of Gonzales Road and up Santa Clara - Why Must
this Fart Tube be routed in populated and well traveled areas. Some One is not getting a grip on themselves
Read and see for your self --- L N G ---

LNG on the Horizon

There is a 'sound' I would like to know how to write without saying what it
was. We have a bad word for it in English, but in Filipino, there is a good
word to describe it : ' ut-tut' or something sounding like that and 'ut-tut'
is the perfect phonetic word to describe the sound you can't spell or say in
English.

You might try to spell it out 'ft-ut-t-t-ph', but could I buy a vowel?
That Bad Word "Fart" ! ! !

That's why this LNG proposal is at first appearing as 'ut-tut' of the most
dangerous sort.
LNG, as a liquid is safe; it is the fracturing of the safe liquid
pipeline that is of concern to Oxnard. This pipeline dubbed the "fart-tube" comes to us by
several oil and gas concerns that would like to connect one of the
off-shore Platforms (Grace) to existing gas pipelines.
<<<<<<THE BIG QUESTION IS >>>>
Why Must this Fart Tube drop trousers at Mandalay and run
it's safe liquid down our main east-west drag
GONZALES ROAD
¿ y que ?

Oxnard has to decide; does it want Platform Grace's gas passing along
everything on Gonzales Road.
This is the big bugg-a-boo for having the LNG
come ashore anywhere near Oxnard.
"Why Oxnard?"
The perceived danger of LNG
and the proximity of it to traffic, to schools and to all of us is threatening.
The current proposal is faulty at best and if a fault were to
unfold, the LNG leakage would become THE major concern...not that fact
that LNG in it's natural contained form is very safe.
But it's the perceived image of something going awry
this is the issue.
This is the calamity factor.
Do we want to allow an accepted level of danger to rise a few
notches by having the LNG within our City boundaries? Methinks not.

There is not much else to do with the fart-tube but re-route it south
towards Ormond Beach and be blasted off the face of the planet by the militant and litigious Enviro's, or run it along the Santa Clara River dry bed, or
perhaps asking Santa Barbara to allow the pipeline come in there.
It could be routed as far north as Gaviota
or as far south as Barbara Streisand's Malibu palace.

So - the issue starts and begins here locally, but soon the
jurisdiction swings~ federal - state - federal.
The Minerals Management Service has to approve,
as also the California Coastal Commission, and even
the National Marine Fisheries Service has to review the proposal
as well as the US Coast Guard,
and the County will want it's own study.
It's not as easy as the Oxnard City Council just saying "NO".
This issue needs every
resident to chime in on it -
We all need to be a part of this process -
--
______If You want it fight for it ______
IF You Don't Want LNG in Oxnard - then show up for meetings,
write letters to the Editor
e-mail them the URL for the Oxnard Journal.
|-=-=-=-=-|
Because ignorance will not be bliss in
potential placement of a Fart Tube in Oxnard's Main East West arterial Apian Way.
The City Council voting to deny access of the Fart Tube to corporate Oxnard,
would be a jolly gesture, but the City Fathers and all of us have to do more.
Stay informed and know what we want in our futures.
Bill Winter - Editor - Oxnard Journal
© - Kapitbahay - please see November ~ December 2003 - -llll
Lucked out with good surf and great Noseriding.

Party was great fun Saturday night. 3 bands - Hula Show - Killer BBQ --- Thanks to all who came and competed and those who worked on the event and those who supported it.

Special thanks to our Sponsors and the California State Parks.

will be posting write-up on www.longboardcontest by Friday. Hopefully will get photos back and post, too. I hear there are some excellent shots.

Cheers, --- Flip


and then there came the election of 2004

and then there came the election of 2004

and then there came the election of 2004
NOVEMBER RINGS IN ELECTIONS .....

November - 2004 - one year from now, you will be going to the Polls to Vote in an important Election
for National, State, County, and Municipal offices.
Oxnard will elect two council-members, one Mayor, a Treasurer, a City Cluck, and a dog-catcher.

There may be a run-off of the District 5 Supervisorial Race - if the vote comes out 33.⅓ % in March 2004.
For City Council we currently have one candidate who announced too early, sometime back in March 2003, and she needs to come back to get current with something like name recognition....

We have Dr. Tom Holden announcing his bid for the Mayor's Seat and by-far he's the front runner
against any challenger.
Persons who like win-place-show will entertain a run by Andy Herrera for the Mayors slot in 2004.
Herrera ran for the Mayor's seat in 1998 against incumbent Dr. Manuel Lopez and challenger, Bill Winter.
Winter came in second on the absentee vote count, which placed him well in his bid for the office.
Andy won back his seat on the Council in 2002 by narrowly defeating Saul Medina in a close and fierce race
for the Second Council Seat up for grabs in 2002 - Dean Maulhardt came in handily first in his bid
to retain his seat on the Council.
City Council challengers will surely be John Zaragoza, (unless he's our District 5 County Supervisor)

Bedford Pinkhard's spouse, Mrs. Dr. Pinkhard, aka Irene Pinkhard announced her bid to seat-warm after her
husband gives up his slot on the council. She recently won the Oxnard Chamber of Commerce's "Human of the Year" award and that got blasted in all the papers. She'll be in the mix.
The candidate who will pull ahead, for those win-place-show folks, will be Saul Medina.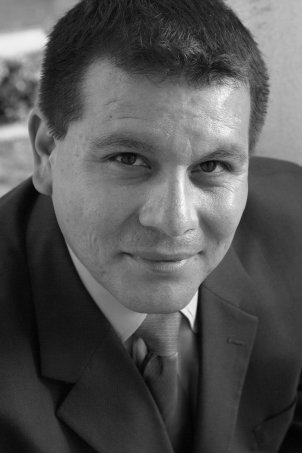 Oxnard's Saul Medina is Ready for 2004.....

He has not officially announced, but based on his close win on the 2002 ballot, he will surely be back again.
Not because he ran and did so well, but because Saul Medina has a strong desire to see Oxnard become the Bright City
of Ventura County instead of the B*#@ard Step-Child who has to accept an LNG enema. Oxnard has a long way to go and Saul can get us there, at the right speed and the right direction. Saul has fresh ideas for a City that appears to have lost it's soul.

Medina still has his campaign kitty active from last election, he has his committee status up-to-date and his people are in place so be on the lookout and look in the direction of Oxnard's horizon. Saul is coming and he's been doing
his homework. His ideas are new, practical, visionary, and founded on his observations of how things get
done in local government.

Medina was endorsed by the Oxnard Journal in 2002. He also gleaned valued endorsements
from the Oxnard Firefighters and other local support groups.

Saul Medina will again get a favorable nod by the City of Oxnard in his next successful run for a seat on the Oxnard City Council.

A New Year is coming Baby, and the adage is still such: You ain't seen nothin' yet . .
SEND US YOUR STORY - Send Your Idea or Query Here -

<![if !vml]><![endif]>

Guitar lessons in my Oxnard home.
$15.00 / hr.
Music degree / good with children.
Results guaranteed with cooperation call ( 487-3195 ) .
World Clock

-==-=-=-=-=--=-=-


-- A Sign You're In Oxnard --- Welcome to our Neighborhood --
..photo by bill winter
=-=-=-=-=-=-=-=-=-=-=-=-=-=-=-=-=-=-=-=-=-=-=-=-=-=--=-==-=-=-=-=-=-
ooooooooooooooooooooooooooooooooooooooooooooooooooooooooooooooo

View___OpenSpaceDistrict

Yes there is news ---- send it to the OxJo
COUNTYWIDE ROOTER & PLUMBING
FREE Estimate ::::: 302-7848 / 1414
Locally Owned & Operated
hello there .. . . .
--- --- --- --- --- --- --- --- --- --- --- --- --- --- --- --- --- --- --- --- --- --- --- ---
--- S U P P O R T - - - O U R - - - T R O O P S ---
--- --- --- --- --- --- --- --- --- --- --- --- --- --- --- --- --- --- --- --- --- --- --- ---
.SPanishVersione~~©: http://babelfish.altavista.com
~~~~~~Oxnard Journal ~~~~~~~~~

--------------------OXNARD IS A GREAT PLACE TO LIVE

-------------------

---

-- BILL WINTER --
the ever most watchfiul master of the Oxnard Journal

=-=-=-=-=-=-==-=-=-=-=-=-=-=-=-=-=-=-=-=-=-=-=-=-=o

Bill Winter

Editor - Oxnard Journal.com

Navy Veteran ( JO - Journalist)

=-=-=-=-=-=-=-=-=-=-=-=-=-=-=--

-=-=-Bible Wisdom=-=-=-=-=-=-=== O X J O ====================

Oxnard journal is

: : :A MINISTRY OF : :

Oxnard Ad Registry

PO Box 1960

Port Hueneme, CA 93044

805-486-9415

-=-=-=-=-=-=-=-=-

/./././././.

E-mail address: OxnardJournal@gmx.co.uk

=-=-=-=-

---

-----

-------

--------

-counter Courtesy of GOSTATS

--

---

-----

=-=

---------------

----------------------

------------ 30 - ----------

----------------------

----------------------

----------------------

----------------------

God Bless You and please ::::: Pray for Our Military Daily....

=-=-=-=-=-=-=-=-=-=-=-=-=-=-=-=-=-=-=-=-=-=-=-=-=-

. . . . . . . . . . . This Page Really Messes with your Head

November 2002 Issue of the Oxjo
Remember - You Found Us =-=-=-=-=-=- ......
- 3 0 -