You Don't Have to Vote for
Tom Holden.......................

The Issues
                             For Oxnard Mayor 2005-06
Politically, former Councilman Tom Holden is a polished well-practiced machine. As Oxnard's next Mayor, Holden
would be a disaster. His goal is to get into office again and stay there until his SS check kicks in at max-benefit.
Oxnard is losing a beloved Mayor in the person of Dr. Manuel Lopez. Dr. Lopez is seeking a higher office to better serve his cherished jewel of a city -- Oxnard. There is a void being left by Dr. Lopez's departure and without a hand-picked successor from the City Council for Dr. Lopez to anoint as his choice to replace him, a perceived free-for-all has occurred where any candidate can have the prized center seat on the Council.
Oxnard is too valuable a city to leave at the hands of self-interested council-people who want to be people-pleasers for their own little "inner-circle" of private money people and wanna-be's. Here are some reasons to consider when you vote for your Mayor.
Recycling a former councilmember as mayor seems to be a logical progression.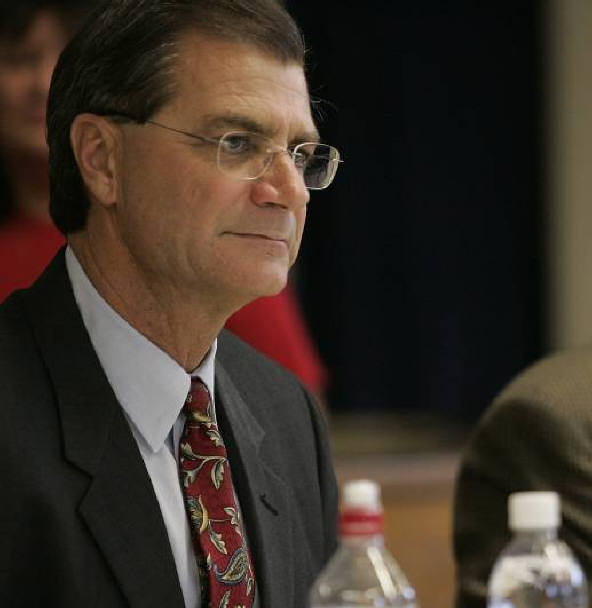 Tom Holden is status quo - business as usual and has no new ideas.
Tom Holden's plans for Oxnard are total in-fill of all Ag-land within Corporate limits.

Country Club privileges given away for free to certain " City " individuals in the form of free golf -- anybody remember that? Perhaps Tom can share more on the subject from his days on Council.
Holden voted to remove the Rainbow Ladies from College Park.
• Tom Holden was a participant in the Brown Act Violation.
• Tom Holden sat on the Boys and Girls Club Board of Directors when he closed the Downtown Boys and Girl's Club.
• Holden did nothing to assuage the pain of the local kids, mostly from La Colonia who used and needed this facility.
• Holden did nothing to ease the horror caused by the IMMEDIATE firing and REMOVAL of a well loved Club Staff
Member, Mr. Ruben Herrera. Herrera was given one hour to clean out his desk and leave. Ruben had to leave his
valuable scrap books, and pictures of his three decades of memories which the 5th Street B&G Club confiscated.
• To date Holden has not re-opened the Club as was promised to be done within a year of the forced closing.....
what's up with that?
• Tom Holden approved of the (two) contracts for River Ridge Golf Course, which the Grand Jury has sought redress on.
• Why does Mr. Holden want to come back to Council - is there more similar work to be finished....?
Oxnard is the way it is today --- mainly due to Tom Holden's City Council tenure from 1993-2002 -- his handiwork can be seen most visibly in the problems Oxnard faces today.
In All the years Bill Winter has been Chairman of the Wilson Historic Neighborhood (since 2001) - Tom Holden has yet to come to ANY of his Neighborhood Meetings. Tom resides within the Wilson Neighborhood as do Council Candidate Tim Flynn and Mayoral Candidate Bill Winter. Winter and other neighbors have delivered meeting notices and flyers to Tom's and other houses on G Street. To date, Tom has yet to show up at any of his own neighborhood's meetings. This is important since one of his statement platforms in the voter pamphlet tells of his dedication to neighborhoods. Is Holden really interested in Neighborhoods if he can't even find the time or desire to attend his own Neighborhood meetings?
Card Clubs and Gambling are favorite subjects for Tom Holden. Holden was openly favorable about instituting a Card Club in Oxnard after he got on the Council in 1993. Tom was also a proponent of the Maidu Casino when the proposal was given to the Council in 2001. The only thing that noticeably changed Holden's opinion on the Casino was not the large number of citizens who appeared to speak against it -- but the loud vocal and audibly expressed word "Recall" by a considerable amount of the audience who attended at the Casino council meeting when it seems the Council was going to ignore the citizens and approve the Casino.
Every voter who decides what is best for Oxnard, must consider that Tom may not be the right or best choice for our next Mayor.
E-Mail Your Favorite Tom Holden Story
Be Sure to view Oxnard's Internet Newspaper:  www.oxnard-journal.com

Note: go back to first paragraph and arrange the first letter of each paragraph into a secret message about Tom Holden.<![if !supportLineBreakNewLine]><![endif]>
<![if !supportLineBreakNewLine]> <![endif]>