These photos were removed from AP, Yahoo and other Internet News Sources due to the graphic nature of what is happening to us in Iraq.
Are we fighting? Is it time to nuke this place?
.
.
WARNING ----- GRAPHIC REALITY
.
.
.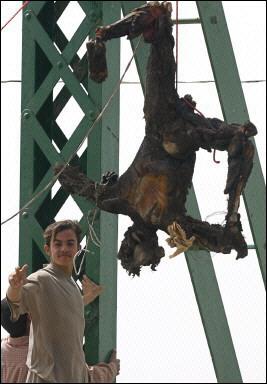 This man is some mother's son.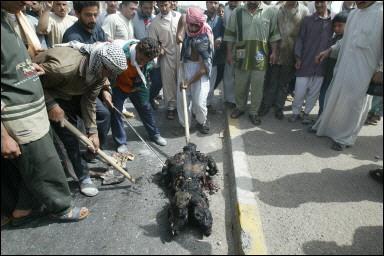 How Iraq appreciates America

Body of American Hangs from Bridge

Some Hang Flags - Iraq hangs Americans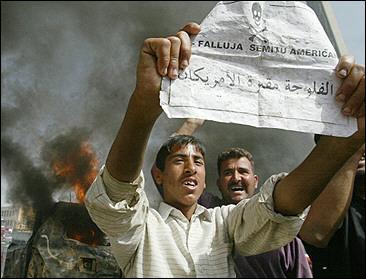 Welcome to Falluja - Now Go Home America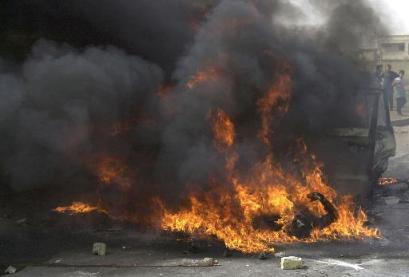 There is a body in the flames

America Died Here Today 31 March 2004
? MISSION ACCOMPLISHED - MAY 2004 ?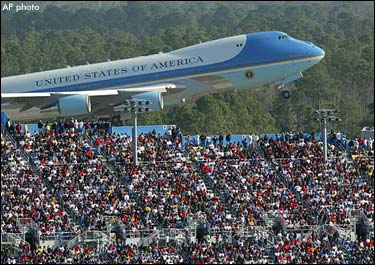 Instead of entertaining NASCAR fans with AF One Fly-overs - ¿ How about some B-52's over the Sunni Triangle ?
-=-=-=-=-=-=-=-=-=-=-=-

=-=-=-=-=-=-=-=-=-=-=-=-=-=-=-=-==-=-=-=-=-=-=-
-- The Oxnard Journal Pulls No PUNCHES ----
=-=-=-=-=-=-=-=-=-=-=-=-=-=-
In the Event You want to Vent::::::::::::: E-Mail Here
...................................
- God is Love and God Sees ALL Things -
Pray for America to be decisive.
----- Original Message -----
Sent: Wednesday, March 31, 2004 9:58 PM

Subject: U.S. expects more attacks in Iraq
U.S. expects more attacks in Iraq

CNN's Kevin Flower, Melissa Gray, Sue Kroll, Vivian Paulsen and Auday Sadik contributed to this report.
Residents hang slain Americans' bodies from bridge
Wednesday, March 31, 2004 Posted: 11:48 PM EST (0448 GMT)

BAGHDAD, Iraq (CNN) -- As the date to transfer governing power from the U.S.-led coalition to the Iraqis gets closer, U.S. officials said they expect more attacks like the one that killed four American civilian contractors Wednesday in Fallujah.
civilian contractors Wednesday in Fallujah.
U.S. officials said the civilians were killed in a grenade attack by suspected insurgents.
Afterward, residents cheered and pulled charred bodies from burning vehicles and hung them from a Euphrates River bridge.
Crowds gathered around the vehicles and dragged at least one of the bodies through the streets, witnesses said.
Residents pulled another body from one of the cars and beat it with sticks.
In 1993, similar television images of jubilant Somalis dancing on a downed Black Hawk helicopter and dragging the bodies of soldiers through Mogadishu undercut public support for what was intended to be a humanitarian mission.
The United States withdrew its troops from Somalia within a year.
But the Bush administration vows it will stay the course in Iraq even beyond the transfer of power set for June 30, and the military remains resolute.
"This is not going to stop us from doing our mission," said Brig. Gen. Mark Kimmitt, an Army spokesman. "In fact, it would be disgracing the deaths of these people if we were to stop our mission."
White House press secretary Scott McClellan called Wednesday's incident in Fallujah "offensive" and "despicable," urging the media to act "responsibly in their coverage of it."
Five American soldiers also died Wednesday in a roadside bombing near Habbaniya, the U.S. military said.
The fatalities brought the U.S. military death toll in Iraq to 600, 408 of them in hostile action.
The four American civilians killed were employees of Blackwater Security Consulting, a U.S. government contractor providing security for food deliveries in Fallujah, the company said. (Full story)
A company statement said their exact identities were not yet known, but "our thoughts and prayers are with their families."
Witnesses of the incident said two Mitsubishi vehicles left a military base east of Fallujah to make their way into the city, about 30 miles (48 kilometers) west of Baghdad.
The vehicles turned onto a Fallujah street as men -- whose faces were covered by head scarves -- split into two groups and threw hand grenades at the cars, witnesses said.
The assailants then sprayed the burning cars with small-arms fire.
Video showed crowds chanting and cheering at the scene, with charred corpses hanging from the bridge over the Euphrates.
Fallujah is part of al Anbar province in the Sunni Triangle, a region north and west of the capital that has been a hotbed of opposition to the U.S. presence.
A changeover from the 82nd Airborne Division to the Marines is under way in al Anbar.
"There's a small core element [in Fallujah] that doesn't seem to get it," Kimmitt said. "They are desperate to try to hold out. They are desperate to try to turn back the hands of time, and that just isn't going to happen."
Coalition Provisional Authority spokesman Dan Senor said those who exulted over the attack "are not people we are here to help. They are people who have a much different vision for the future of Iraq and the overwhelming majority of Iraqis."
In other violence Wednesday, two bodyguards for the governor of Diala province and three civilians were wounded in Baqubah, north of Baghdad, when an attacker pulled a car up beside the governor's car and detonated a bomb, Kimmitt said.
The bomb damaged vehicles and a building, but the governor was unharmed, he said.
Three British troops were wounded, one seriously, by a makeshift bomb near Basra in southern Iraq, a British Defense Ministry spokesman said.
In northern Iraq, U.S. soldiers and Iraqi police detained 20 people Tuesday suspected of anti-coalition activities:
Soldiers from the 3rd Brigade, 2nd Infantry Division and Iraqi police detained 10 people in Mosul. Iraqi police in Mosul also apprehended two people wanted in connection with a drive-by shooting.
Soldiers from 5th Battalion, 20th Infantry Regiment detained five suspects speeding away from the scene of a rocket attack in Hammam Al Alil near Mosul. The soldiers detained two suspects after searching door-to-door in Hammam Al Alil. Also in Hammam Al Alil, soldiers detained one suspect at a traffic control point.

CNN's Kevin Flower, Melissa Gray, Sue Kroll, Vivian Paulsen and Auday Sadik contributed to this report.

| | |
| --- | --- |
| | Click the following to access the sent link: |
| | |
| | |
=-=-=-=-=-=-=-=-=-=-=-=-=-=-=-=-=-=-=-=-=
--e-mailed to the Oxnard-Journal by CNN --
be sure to visit CNN online,
-30-
-------------------