Holden Avoids Winter at TV Taping.
Dateline: Oxnard - Thursday - Sept. 2
.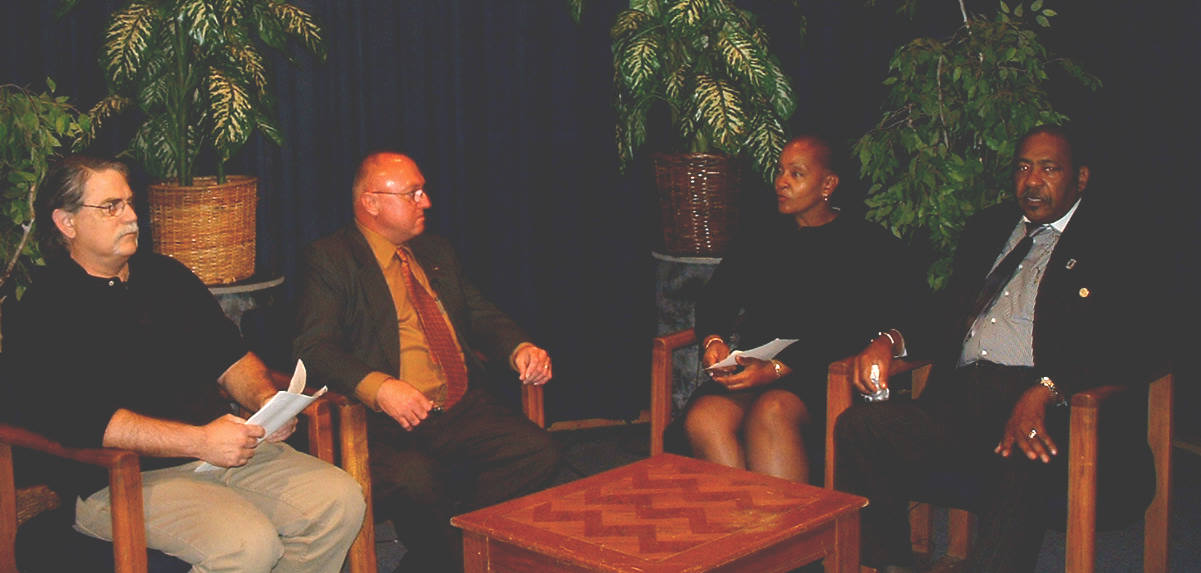 Candidates Sumpter & Winter with Hosts Peggy Hunt and John R. Hatcher III
NAACP Ventura County's lead representative John R. Hatcher III, and his co-host, Peggy Hunt, Editor-in Chief of Oxnard's leading African-American newspaper the Tri-County Sentinel invited Oxnard City Council and Mayoral candidates to a taping of their public access program "What's Going On" which airs on Wednesday and Friday at 6:30pm on Adelphia cable channel 19.
All candidates were invited to participate and the order of schedule was set up to accommodate every candidate. Hatcher and Hunt invited Deidre Frank to a taping at 3:30pm and the remaining candidates, Bob Sumpter, Tom Holden, and Bill Winter were scheduled for 4pm. Sumpter and Winter arrived on time. Holden indicated he would be delayed a bit and the hosts Hatcher and Hunt waited about 15 minutes for Tom to arrive. The Production Crew indicated it would be better to tape the show and get it in the can as there was one more taping afterwards.
Hosts Hunt and Hatcher afforded candidates Sumpter and Winter the most pleasant interview tackling some intense subject matters such as the Gang Injunction, and the overall composition of the Oxnard City Council.
At the end of the half-hour show, Sumpter and Winter departed the studio and in walked Holden and Councilman Zaragoza.
Holden obviously wanted to avoid Winter since their last encounter at the Bartolo Square North Candidate's Forum was a rather uncomfortable one for Holden. Holden did not apologize for his tardiness and used this opportunity to berate challenger Winter by repeated saying..."You need make-up.". Holden's wry condescending comments to Winter were overheard by Hatcher, Hunt, Zaragoza, and Winter's Chief of Security, Felix Fuentes. Winter took the high road by not debasing himself in responding to Holden's petty comments. Winter later said, that "I felt like telling Tom, he needed an entire make-over...."
This race for Mayor will be an interesting one and hopefully more civil, especially in front of witnesses.