The OXNARD JOURNAL .....................................................................
ELECTION DAY = 2004

Oxnard Goes to the Polls ------ Candidates Await Their Fate ------ The People Speak !!!!!
The Polls Opened at 7 a.m. and Already there are lines of people - it is slow going, but worth the
wait. Be Patient and Try to Vote on off-hours ( 9-11 am // 2-4 pm // ) If you have to vote after work vote closer to 6pm which is the dinner hour. Polls will stay open for you.
Vote YES on Measure A.
Vote NO on Measure B.
Vote your child on Measure H.
Vote NO on any Proposition You Don't Understand.

For Mayor - BILL WINTER
For Council - AL DUFF -- SAUL MEDINA
Don't Split Your Vote
Only One Vote cast is One Vote Wasted. ---
If You Have A Throw-Vote -----------
The Oxnard Journal endorses:
JOHN C. ZARAGOZA


For State Offices

=========================

State Senate -- Who Knows, none of the Senate candidates
made any dents in Oxnard - Recommend Vote Your Party.

State Assembly -- Pedro Nava has really run an extremely negative campaign that is childish at best as seen by Nava's use of cartoons on flyers and TV ads to make his opponent
Bob Pohl look bad.
The Oxnard Journal has a High Recommend for
Bob Pohl.

State Assembly -- South of Channel Islands Road: Heather Peters is a new fresh voice and would be a marvelous state rep. Fran Pavley is a known incumbent and has her strong bases of support. Hard to call.....Give Heather Peters your consideration.

For Federal Office =========================

For Congress ::::: The "Don" Don Regan.

For County Office =========================

For Supervisor ::::: Mayor Manny Lopez


All Other Races - You're on Your Own !!!!!

Have Fun and Be sure to Vote Early and Often.

The Frosting on the Cake

There has been much frosting of candidates for Oxnard's City Council. Many candidates came to quickly learn running for office was a "swim for yourself" ordeal.
And you really get to know who your friends are and aren't.

John Zaragoza has run a good campaign and has lots of support so all challengers are looking to either unseat him or just place second seat on the ballot.

The woman vote will prove an interesting demographic as two female candidates seek non-competitive seats. Deirdre Frank originally pulled out and had signed nomination papers for City Council -- her advisors suggested she run for Mayor - thus sparing the Council candidates another opponent then she took out papers for Mayor and filed them on the last day.

Dr. Irene Pinkard is working hard to distinguish that she is not "Bedford" and her approach to gaining a seat on the Council proves that.

Saul Medina is running his machine up to the very end of the finish line. People not ate up on Party Affiliation see Medina as a radical strong man of conviction and strength in his break with the Democrats to Endorse Bob Pohl for the 35th Assembly District. Saul will gain a good percentage of the 17,ooo registered Republican voters in Oxnard. He may get less of the Democratic vote, but 17K is a good number in winning elections in Oxnard.

Bill Winter awaits the results, anticipating that his honest and kind approach to helping people, being responsive, a good listener and a helpful voice will place him on the City Council as Mayor of Oxnard.
California Governor Arnold Schwarzenegger
visits Santa Barbara to promote Bob Pohl.
Governor Schwarzenegger jetted Monday afternoon into Santa Barbara
and met State Assembly Candidate Bob Pohl
to promote voting on Tuesday,
his preferred Assembly candidate, Bob Pohl,
and to meet fans and
supporters.

The Governor Arrives
Bob Pohl with the Governor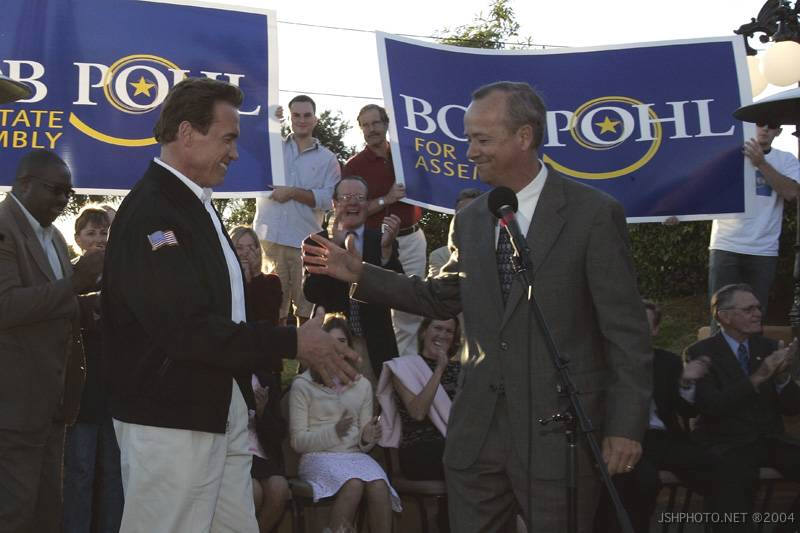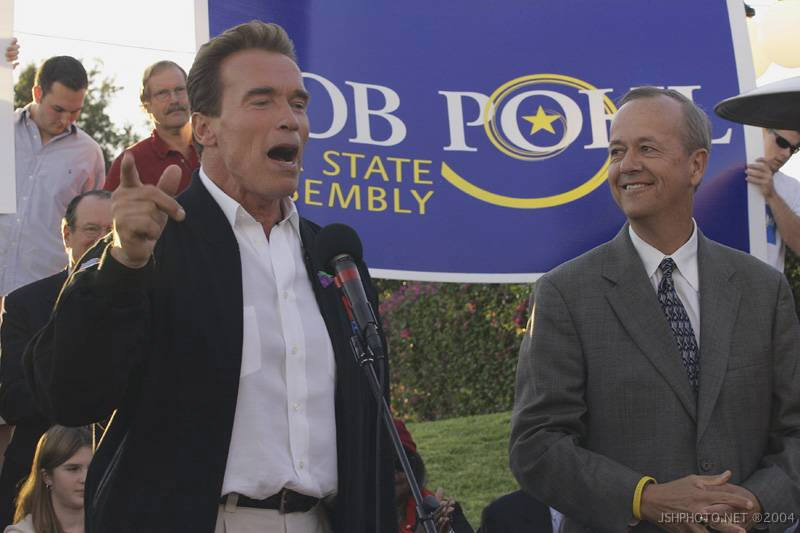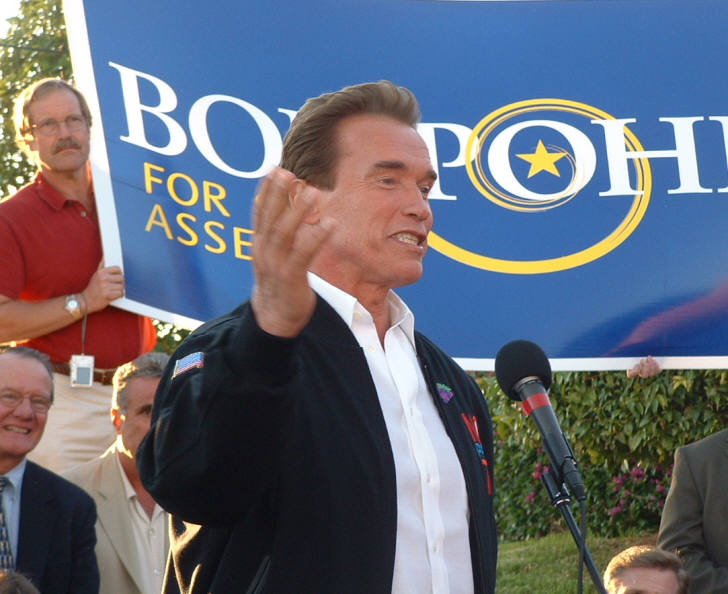 Governor Schwarzengger tells crowd to vote on Tuesday. Brooks Firestone (left) listens enthusiastically.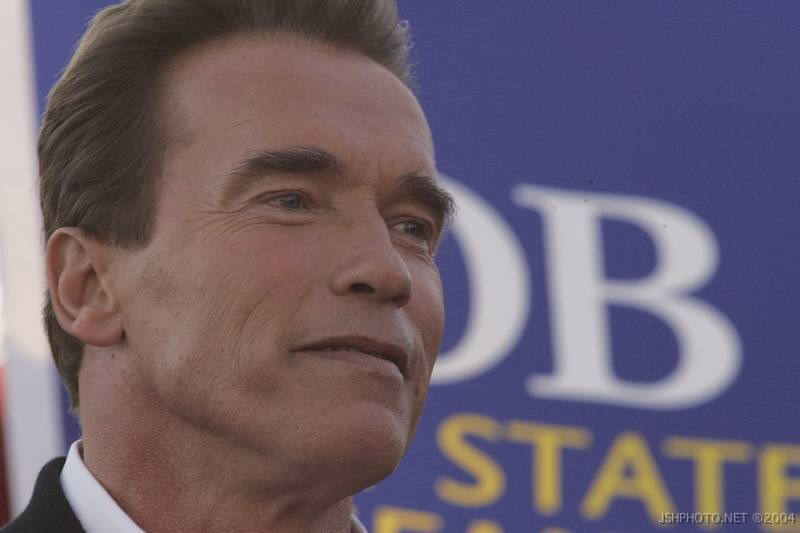 The Governor promotes his Proposition Voter Guide.......

The Governor greats well-wishers as he departs from the area.

Governor Schwarzenegger leaves with his security detail onto the runway to his awaiting jet.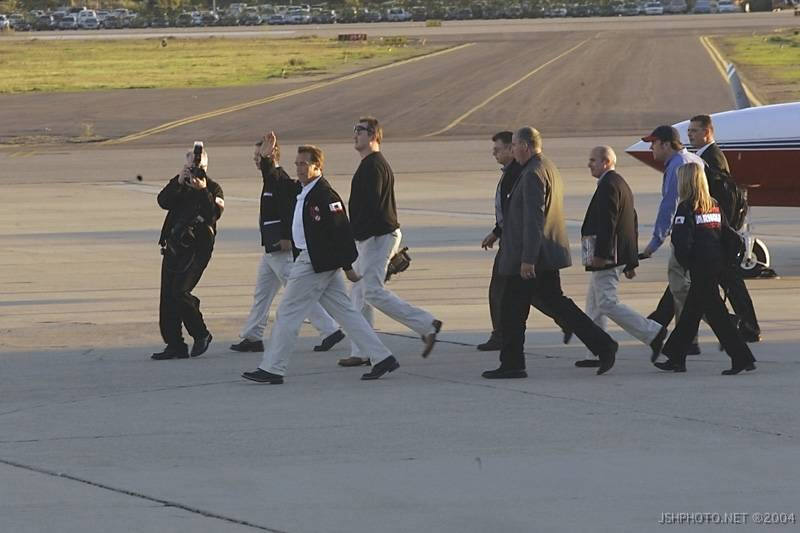 The Governor is off to another political stump speech and cheering admirers.......

Protesters came to disrupt the event as much as they could - one lone voice in favor stands in the center.

A Nava Supporter uses Bull-horn to disrupt the event --- Republicans said they would never do such a thing to
any opponent and THAT is what separates them from the protestors.

Some brave souls did join the ranks of the protesters to silently display their signs.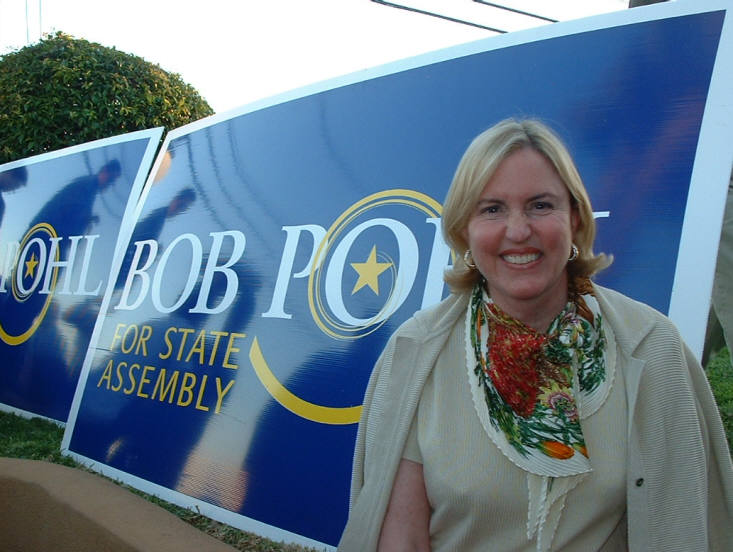 Beth Rogers is glad she came to support her Assembly Candidate -- Bob Pohl.
"Be Sure to Vote . . . . . . . . . . . . . "